your perfect dive companion
Divebase for iOS & Android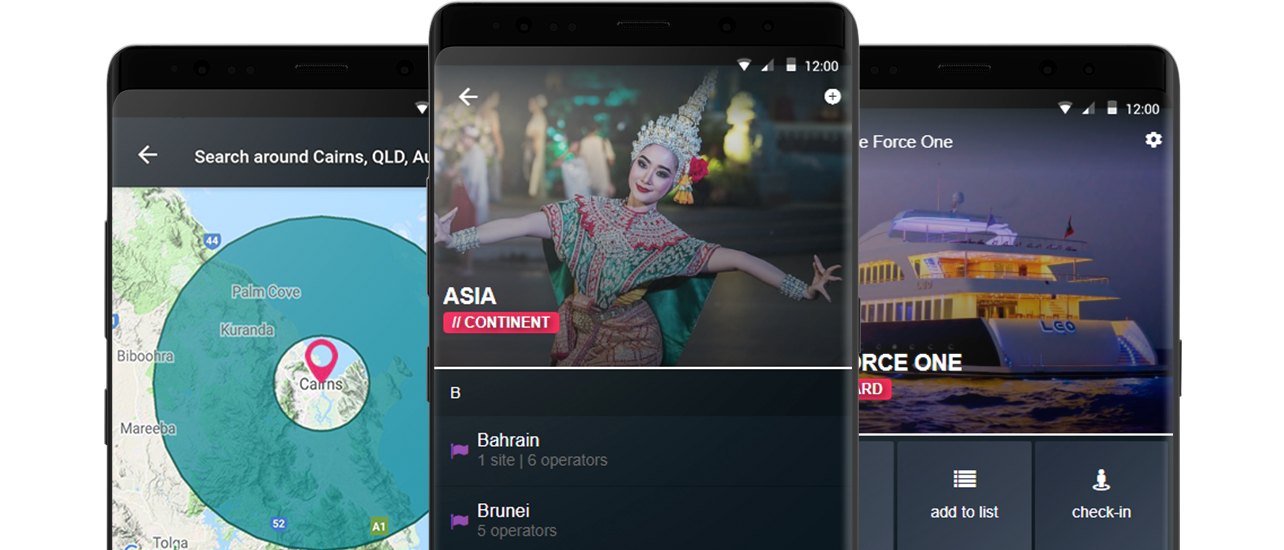 More than an app by divers for divers
We are a new tech startup working on a free app that has details on more than 20 thousand dive spots, 10 thousand operators, 2500 locations and 170 countries around the world.
Our goal at Divebase is to always keep on growing our data by having our users submit, enhance and review data, keeping it up to date and complete for others to use and build on and document every spot, shop, liveaboard, and dive club on our planet.
Not only will this data help our users to explore and enjoy new scuba locations around the world, it will also help conservation organizations build a better picture of our oceans and marine life.
Preparing for a dive has never been this easy
HUGE DATABASE.
Divebase has loads of information you need to plan your next dive trip anywhere in the world. What took you hours before, will be a piece of cake with Divebase
REAL-TIME DATA.
Interested in the weather around your favorite dive spot or holiday/travel destination, the last divers findings & sightings or want to plan a dive before the tide comes in? We have your back!
POWERFUL SEARCH.
Instantly search through our huge database of dive spots, dive shops & resorts, liveaboards, dive clubs, regions and countries. Or just find out whats around you!
Community driven & divers first
Find out what others think of a spot or shop, or get the best tips from the locals. Dont forget to share your experiences!
Share your photos, give some love, ask questions, create a bucket list, but most of all enjoy!
Divebase is packed with awesome features
IMPORTANT INFO.
Depth, temperatures, rainfall, dive type, location, tides, and reviews are just some of the info we have for you!
LOCATION AWARE.
Find great new shops, clubs and spots around you by just opening the app anywhere in the world!
> 30.000 LOCATIONS.
20.000+ dive spots, 10.000+ operators, 2.500+ regions in 170 countries around the world
Contact the Divebase team